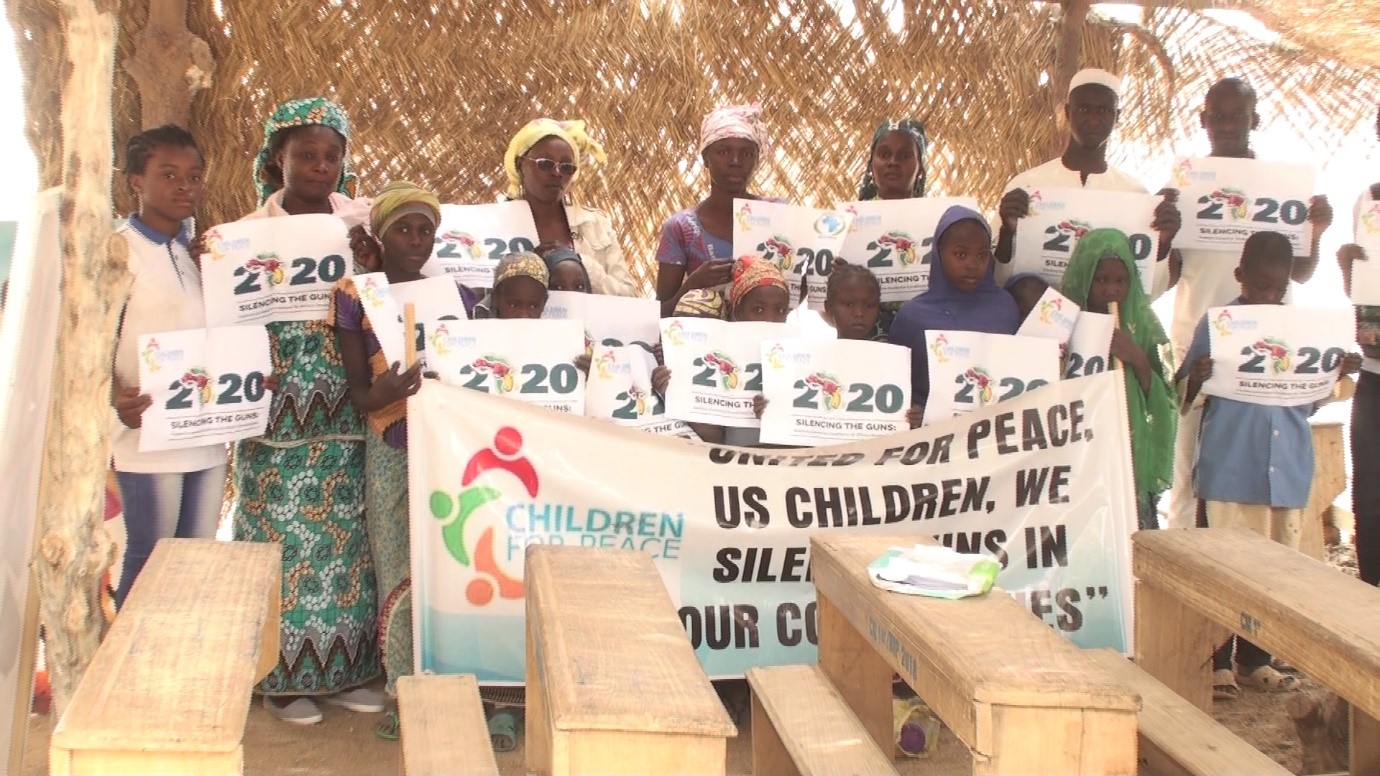 DECEMBER 2019 – SEPTEMBER 2020: SILENCE THE GUNS CAMPAIGN
Silence the guns is a citizen engagement support project led by children and especially girls that aims at supporting the global ceasefire call of the UNSG in the context of COVID19 and the African Union Silence the Guns campaign and contributing to the positioning children as core actors of peacebuilding and fight against the pandemic in their community. Through strengthened collaboration among Children, community leaders and local authorities, the project aimed at democratizing and reshaping the local governance and management of conflicts, thereby liberating endogenous approaches and innovative solutions to build peace and improve children rights in affected areas by war. Key results of this project are as follows:
120 children capacitated on thematic related to COVID 19, peacebuilding, violent extremism and human rights focusing on children rights, disarmament and illicit proliferation of weapons.
07 children for Peace clubs set in communities and the capacity of 175 members built in fighting pandemics; leadership for peacebuilding, conflict resolution, human/children rights and gender-equity.
50 children including internally displaced children and refugees' children participate in the children march for peace entitled ""Ceasefire – Silence the Guns""
02 advocacy meetings gathering 50 local traditional and religious authorities; State officials organised on matters related to (1) covid-19 measures and children rights, demobilization reintegration and disarmament of youth/teenagers ex combants; (2) KidsRights; (3) the implementation of the UN Convention on the Right of the Child and the UNSCR 2250 and 1325 (relating to youth and children participation in peacebuilding) and the fully implication of children in peacebuilding (4) fight against early and rough marriages; (5) the importance to mobilize all stakeholders including private sector and multi-nationals to invest in girls and children education and youth employment.
1 sensitization meetings mobilizing 100 community members including internally displaced people and refugees organised in 5 communities on (1) covid-19 measures, Children rights and early marriage; (2) the importance of the living together and peacebuilding, (3) the consequences of early marriage; (3) the importance of disarmament, reintegration of children/Youth ex-combatants (4) the importance to fight against the illicit proliferation of weapons; (5) children and girls' education
2 networks composed of at least 50 religious, traditional leaders are set up and are working closely with the children to advance the Silence the guns project related issues
2 multi-stakeholders networks constituted by religious and traditional leaders and children operationalize community sensitization and advocacies in villages, markets, schools, mosques, churches and in local media and on the internet that have touched at least 10 000 people among which 5 000 children/teenagers.
500 children; 50 local authorities and 300 community members directly involved in COVID-19 measures and children rights disarmament, demobilization and reintegration of ex-child/youth combatants as well as in the fight against violent extremism, radicalization, proliferation of weapons through the project.